WSOP Event #10 $2K Limit Hold'em and Event #9 $2K NL Day 2
"Are you one of them dealers on the World Poker Tour?" one of the guys shouted at me as locked up my front door to go to work yesterday.
He lazily stood in the middle of a gaggle of disheveled rednecks and spoke with a slight drawl. He noticed that
Flip Chip
and I were wearing all black and had badges dangling around our necks. It was a valid question. We looked like we could have been dealers. We wear black clothing during all final table events that are taped on TV as per requests of the production crew. I was impressed with my neighbor's keen observation skills.
Note to self:
Never underestimate the intelligence of people with less than nine teeth.
Ah, who the hell am I kidding? He's a shirtless inbred nitwit who drinks Mike's Hard Lemonade for breakfast. His beer gut hung over his waistband by three and a half inches and he happily sported a tattoo that read "Fuck Osamma" on his left arm. I wanted to point out the spelling error but I was in a rush. I wondered if in a dark cave somewhere in Western Pakistan, there was an Al Qaeda fighter who had a tattoo that read "Fuck Billy Boob!"
Yesterday was an insane day where I found myself covering three different tournaments and two final tables. I was up until 7am writing different recaps and articles. Flip Chip shot 1Gbs worth of photos for the
2005 WSOP Photo Gallery
. I also had to get up by noon to tape an interview with Sean for the
Lord Admiral Card Club
poker podcast. I'm swamped with work and I seriously need an intern.
Moving on... back to the Rio.
I consider the poker room at the Rio "my office." In my life I have worked in some pretty historic places and I can add the Rio to that list. For my first job on Wall Street, I worked on the trading floor of the New York Commodities Exchange, which used to be located on the 8th floor of the World Trade Center. I also worked at the Metropolitan Museum of Art. talk how two famous institutions. Alas, both jobs seemed like lifetimes ago. Today, my day job is at the Rio along with hundreds and thousands of seasoned professionals who are all gunning for a shot at a WSOP bracelet.
I wish I was in their seats flinging chips around instead of being the monkey on the laptop in the corner writing about bad beats and chip counts. I can't. I'm not a strong enough player and I have to work. But hey, I can't complain. I'm getting paid the big bucks to write everyday and blog live from the floor of the Rio plus I get free accommodations at the lovely Red Neck Riviera.
Today's Tournaments:
1.

Event #9 $2000 NL Day 2 (follow the action in green font)


2. Event #10 $2000 Limit Hold'em Day 1
There 43 players left at the start of the $2K NL Day 2. It started yesterday with 1403 players. The prize pool is $2,581,520.
The second Limit event at the WSOP began today at noon. Buy in was $2K with 569 entrants and a prize pool of $1,046,940. Not too bad for a Limit event, eh? Daniel Negreanu won last year's $2K limit event.
****** Live Blogging Update ******
1:59pm... $2K NL Day 2 update: Perry Friedman begins today as the chipleader with $154K.

4:20pm... $2K NL Day 2 update: John Bonetti, The Grinder, and Dutch Boyd were recently knocked out. The Grinder's KQ ran into Marcel Luske's pocket Jacks and did not improve.
5:01pm...
$2K Limit update: Sorry that I haven't been covering much of the Limit event. I've been gawking at the prime real estate by the pool and trying to hit on those slutty girls who work the cigar booth in the hallway. There are 250 players remaining. here are some chip counts courtesy of
Poker Wire
:
Notable Players
Carlos Mortensen $13K
Alan Goehring $11K
Daniel Negreanu $10K
Toby Maguire $8K
Barry Greenstein $8K
Mimi Tran $7K
Toto Leonidas $7K
Mike Gracz $6.4K
Howard Lederer $6K
Miami John Cernuto $5K
Andy Bloch $4.5K
Max Pescatori $4K
James Woods $3K
Thor Hansen $3K
Erick Lindgren $2.9K
Chris Ferguson $2.9K
Men "The Master" $2.5K
Matt Matros $2.5K
Ram Vaswani $2.3K
6:05pm... $2K NL Day 2: We're down to 22 players. Nicholas Finamore and Ray Foley were the last two knocked out. Also sent home today were Joe Awada, Chau Giang, Ezra Udoff, and David Plastik. Perry Friedman is still the chipleader with about $240K.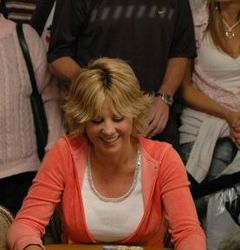 6:09pm... $2K NL Day 2: Marcel Luske was just knocked out by a bad beat from Morgan Machina. Marcel moved all in with JJ. Morgan called with 99 and flopped a set. Marcel went 1 for 2 with JJ today.
7:30pm... $2K NL Day 2: We're down to two tables and 17 players. Kenny Robbins, Mark Owens, and Dalton McCulley have been knocked out. Here's a quick chip count courtesy of Poker Wire:
$2K NL Day 2
1 Cyndy Violette $ 450K
2 Morgan Machina $ 285K
3 Ken James $ 265K
4 Soulier Fabrice $ 250K
5 Chris De Maci $ 225K
6 Harry Demetriou $190K
7 Paul Sexton $155K
8 Perry Friedman $140K
9 Bill Blanda $125K
10 Kevin Fox $110K
11 Erik Seidel $100K
12 Mark Ketteringham $100K
13 Dani Awad $95K
14 Ayaz Mahmood $80K
15 Chris Won $70K
16 Francious Safieddine $50K
17 Joel Chang $20K
7:38pm...
The ESPN crew is right in front of me taping Antonio doing chip tricks using the final tv table set. I caught a glimpse of Fossilman by the cashier talking to a couple of guys. I like Greg Raymer, but I'm always skeptical of guys who wear socks with Tevas. Then again, sometimes it gets fuckin' cold here at the Rio. So I'll let Fossilman slide with this one. When you are the WSOP Champion, you can get away with a few fashion faux pas.
7:40pm...
$2K Limit update: There are 148 players left. It's dinner break and play will resume in 20 minutes. I bumped into
Max Pescatori
. He's got about $14K in chips. When I asked him about the quality of players at his table, he said,
"Everyone forgot how to play Limit."
8:15pm...
I've been getting random calls from friends today letting me know that they are digging my coverage. Thanks guys (
Bad Blood
,
Daddy
&
Joaquin
) because I'm flattered.
My brother
and
Bobby Bracelet
are in NYC right now and they've been betting on the ponies this afternoon, specifically the Belmont Stakes.
Afleet-fuckin'-Alex
won. Oh well.
8:45pm...
$2K Limit update: Peter Tran had the chiplead last time I checked. I took a stroll through the Limit event tables area. There are 115 players left on 12 tables. Howard Lederer with about $10K in chips was eating a power bar. Daniel Negreanu is still alive. Max Pescatori has about $13K in chips (and he also asked about
Felicia
). Max was moved to Tobey Maguire's table. He's listening to an iPod and he has about $4K in chips.
9:18pm... $2K NL Day 2 update: Erik Seidel caught a huge card on the river. He moved all in preflop with AJ. Chris De Maci called with Big Slick. Seidel spiked a Jack on the turn and doubled up. By the way, I saw that Erik was holding a copy of Charlie Shoten's book No Limit Life as he made his way back to the table after a break.
9:20pm...
$2K Limit update: There are 108 players left. I heard Daniel Negreanu yelling out to no one in particular,
"You're going down! I'm still here and you're going down!"
9:40pm...
$2K Limit update: Howard Lederer was elimianted. Tobey Maguire busted out with a short stack. He had 88 and lost to AK.
10:01pm... $2K NL Day 2 update: I witnessed the first Hammer drop at the WSOP! It was an amazing hand. In the LB, Paul Sexton tried for a steal with one of the bigger stacks at the table. Chris Wunderlich was short stacked in the BB and moved all in. Paul thought about it for a long time. ESPN's mobile camera crew caght the action. Paul started smirking. On the other end of the table Harry Demetriou and the other guys were trying to put Paul on a hand. They all knew he got caught making a steal. Paul counted out a few more chips and nonchalantly tossed them into the pot. Chris Flipped over A-10. Paul sheepishly turned over... 2-7o... aka The Hammer!!! Grubby and all my blogger pals would be happy. Now here's where it gets interesting. The flop: 7-8-9. Wow. Paul caught a bit of the flop. On the turn a 6 fell and Chris caught his open ended straight draw. The river was a ten and both players chopped a pot. Paul was super embarassed and hs face flushed several shades of red.

Harry said out loud, "Now that's a bad beat."

I interjected, "Behold the power of The Hammer!"

The best part about the hand was it was captured by ESPN crews. I hope they caught my commentary. Tournament Director Johnny Grooms turned to me and said, "Nothing like capturing a steal on ESPN."

Seriously, congrats to Paul Sexton. He's my new favorite player for dropping The Hammer!

10:30pm... $2K NL Update Day 2: There are 12 players left. Morgan Machina is the chip leader with $380K. Erik Seidel and Cyndy Violette are not far behind Erik.

10:33pm... $2K NL Update Day 2: Morgan Machina knocked out Chris De Maci in 12th place. Cyndy Violette caught runner-runner for a Royal Straight Flush in spades. Cyndy knocked out Hani Awad in 11th place. He had Big Slick and she had Ks-9x. She's on a roll. At this point she's looking like she might win it all. We have ten players remaining and the players had to redraw for seats. Cyndy Violette is the chipleader. As soon as one more player is busted we will break until tomorrow.

10:50pm... $2K NL Update Day 2: I just saw the Hilton Sisters get cracked by K8. Mark Ketteringham moved all-in preflop with K8. Bill Blanda quickly called with the Hiltons. There was a King ont he flop and Mark doubled up.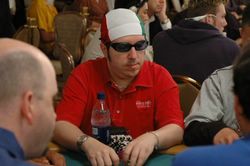 11:11pm... $2K NL Update Day 2: Morgan Machina AQ knocked out Mark Ketteringham's AK. Morgan caught a Broadway straight. We have nine players left. Play will resume tomororw at 2:30pm. The event will be televised on ESPN in late August. The chipleader is Morgan Machina with over $1M in chips. Bill Blanda is the short stack with $46K.
11:15pm...
$2K Limit update: 69 players are left on 7 tables. Vince Palma is the chipleader with $50K. Barny Boatman has around $30K. Max Pescatori is near the top with $22K. And Daniel Negreanu has about $20K. Matt Hilger is still alive.
11:40pm...
I bought an iced tea at the gift shop here. It cost me $2.50. The only highlight was meeting John Wayne's nephew in there. He was a dead ringer for the Duke. He even did "the voice." On my way back to the media room, I saw John D'Agostino and Phil Laak playing in a $25/$50 NL cash game. I realized that I have been neglecting my cash game sideline reporting. In the future I promise I will bring you more stories about that. Dan from
Pokerati
saw Greg Raymer sitting in that game earlier in the evening. I saw Barry Greenstein wandering around hanging out advance copies of my book. I missed my shot at getting a copy.
12:03am...
$2K Limit update: We're near the money. We're playing hand to hand. Gary Lent is the chipleader.
12:20am...
$2K Limit update: We made the money. Max was shortstacked and hung on to squeeze into the money. He finished in 53rd place and cashed in two consecutive tournaments. He netted $600. "Minus $100 for the massages," he said.
3:01am...
$2K Limit update: We're down to 22 players and the action is stopped for toady. Play will resume at 2pm. Matthew Hilger, Alan Goehring, and Daniel Negreanu were all knocked out. Reza Payvar is the chipleader with $173K
Sunday is going to be tough with three tourneys to cover in addition to two final tables.