Event #25 $2,500 Pot-Limit Hold'em -- Event #24 $2,500 NL Day 2 -- Event #23 $5,000 Stud Final Table
It's Saturday in Las Vegas. I can tell by all the empty crack vials in the parking lot and the torn condom wrappers in the stairwell. Just another late night of fun at the Redneck Riviera. My slovenly neighbors are onto me. They think I'm a CIA spook or something because when
Flipchip
comes to pick me up, we're always wearing black clothing and sunglasses.
I finished my interview with the
Lord Admiral Card Club
a few minutes ago, live from the floor here at the Rio. It was almost 25 minutes long and should be posted on Sunday night.
I had a slight headache and thank goodness for
Amy Calistri
. She hooked me up with some aspirin. And that's not a secret code for horse tranquilizers. But if any of my readers that are coming out to the WSOP in the next two weeks happen to come upon anything of the sort, please seek me out. I'll trade you Isabelle Mercier's cell phone number for a hefty bag of happy pills.
Speaking of sultry poker playing vixens, here are two pictures of Isabelle Mercier for
Mean Gene
and
Boy Genius
: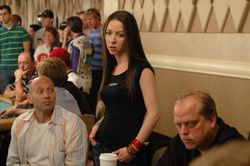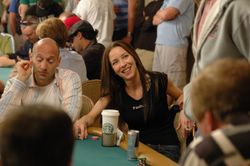 You can click on the pics to enlarge and both were taken by Flipchip. Don't forget to visit his 2005
World Series of Poker
photo gallery. Speaking of which, the Poker Prof is hard at work at a secret location in the Nevada desert. He's been working on cool stuff like the
2005 World Series of Poker tournament results page
in addition to
2005 WSOP Stats
page with quick random stats for all you number junkies. And here's my favorite link:
2005 WSOP schedule
.
I'm covering three final tables today, but since it's Saturday, I'm going to be giving you half-assed coverage. I have an article due so I'm going to be seriously multi-tasking... writing that and doing live blogging.
Here are today's tournaments:
1. Event #23 $5,000 Stud Final Table = Red font


2. Event #24 $2,500 NL Day 2


3. Event #25 $2,500 Pot-Limit Hold'em = Blue font
The Stud event started with 192 players. The prize pool is $902,400. We're down to 8. The $2,500 NL event started with 1,056 yesterday and the prize pool is $2,438,800. I'll get the stats on today's event as soon as I get a cocktail. Today feels like a vodka and tonic kind of day.
****** Live Blogging Updates ******
3:00pm... Stud Final Table update: ESPN is taping the event, so it always starts late. Because it's a Stud event, the cameramen are taking extra time to get more of the poker table in their shots to show more coverage of the cards. Joe Awada is last year's champ and will try to defend his title with about six pictures of his kids on the rail.

3:10pm... Stud Final Table update: Here is today's final table including starting chip counts:
1 John Phan (Los Angeles, CA) $198K
2 Gerard Rechnitzer (Beverly Hills, CA) $71K
3 Keith Sexton (Dayton, Ohio) $135K
4 Joe Awada (Las Vegas, NV) $126.5K
5 Steven S. Diano (Las Vegas, NV) $58.5K
6 Chip Jett (Las Vegas, NV) $206K
7 Jan Sorensen (Odewse, Denmark) $140K
8 Tom McCormick (Fargo, ND) $25K
Like I said, Joe Awada is the defending champion in this event.
In the writer's pool here's the break down:
Nolan Dalla: Jan Sorenson
Jay "I love unicorns" Greenspan: John Phan
BJ: Joe Awada
Earl: Keith Sexton
Pauly: Gerard Rehnitzer

I won the yesterday's pool with my pick Mark Seif, so I got to pick last today. Nolan went with Amy's guy... Jan. She has a fetish for Danish men.
3:45pm... Stud Final Table update: We have our first bust out at the final table. Joe Awada knocked out Tom McCormick who was short stacked. By fourth street McCormick had a King high with three clubs and he was drawing dead by the time Awada picked up a full house on fifth street. Tom McCormick finished in 8th place and won $27,070.

4:40pm... Stud Final Table update: Joe Awada knocked out Gerard Rechnitzer. SO it looks like I'm out of the writer's pool. Joe Awada's two pair Kings & Jacks were better than Gerard Rechnitzer's fives & sixes. Gerard Rechnitzer finished in 7th place and won $36,095.
5:20pm...
The action has slowed down at the final table so as soon as Johnny Grooms announced a short break at the final table, I bolted for the shop in the casino that sold fifth's of liquor. Saturday is Stoli day here at the Rio and
Otis
and I started our bender early today with a few screwdrivers. It's a matter of time I'm banned from media row due to my incorrigible drinking habits.
6:25pm... Stud Final Table update: John Phan knocked out Steven Diano in 6th place. By sixth street, Phan was ahead with two pair (aces up) and Diano only had two jacks and a gutshot draw. He missed it on the river ad Phan scooped the pot. Diano finished in 6th place and won $58,655.
6:30pm...
Phil Gordon picture of the day
... for the
April
Sisters
.
8:20pm...
Bouncin Round the Room: I went on dinner break and found myself hanging out with some of the ESPN crew at the sports book. Senor called me from back east and I was disappointed to see that the god dammed Yankees lost to the Mets. I realized that I call too many people, "Sweetie." Dan Michalski brought in a bottle of scotch and a sixer or Shiner Bock... which is some fine Tejas amber beverage. It's sitting on ice in the media room. If we can only keep the vultures away, we'll have some fun late night.
8:30pm... Pot-Limit Hold'em update: Phil Hellmuth was just busted. Jeremy from Love & Casino War was knocked out in 90th place in his event. He was shortstacked before the dinner break. Here's what he said in his blog about us:
I'm out in Vegas at the WSOP this weekend. I had the distinct pleasure of hanging with Dan, Otis, and Pauly last night, and let me tell you, I take back everything I said about these guys. They are not hard working at all! Through a sophisticated combination of text generators, blow-up dolls and mirrors, they create the illusion of activity while they really are just lounging in the press box, drinking Singapore Slings and cavorting with women of dubious moral value. I don't think Dan has ever even played a hand of poker; he asked me last night what the difference between "Texas hold them" and "Omeeha" is.
He's a good egg and it's always good to meet one of the "original poker bloggers." His story about meeting Rita from Taxicab Confessions is priceless. Take a peek at his blog.
8:40pm... Stud Final Table update: Joe Awada was knocked out in 5th place. Joe Awada moved all in and lost to John Phan who caught a straight. Last year's champ, Joe Awada won $58,655 for fifth place. Jan Sorensen is the chip leader. Chip Jett is the small stack.

10:10pm... Stud Final Table update: John Phan was knocked out in 4th place by Keith Sexton. John Phan won $72,190 for 4th. Keith Sexton moved into a hige chip lead.

10:20pm... Stud Final Table update: Chip Jett was eliminated in 3rd place by Keith Sexton. Jett pushed all in with a pair of sixes while Sexton showed a pair of Queens, which was good enough to win. Chip Jett won $99,265 for third place. We reached heads up play between Keith and Jan Sorensen.
11:00pm...
$2,500 NL Day 2 update: Play has been suspended for the day and action will resule at 2pm for the final table which will be taped by ESPN. Here is who is left: Joe Zappia, Larry Watson, Glynn Beebe, Mayen Grigorian, KJ Jordan, Lars Bonding, Jason Tate, Farzad Bonyadi, and Robert Doyle.
12:51am... Stud Final Table update: After 2.5 hours of heads up play Jan Sorensen slugged it out with Keith Sexton. Jan made a final table two years ago and finally broke through this year to win his first WSOP bracelet. Keith Sexton won $162,430 for second place and Jan Sorensen won $293,275 for first.
2005 $5K Stud Champion: Jan Sorensen
See everyone tomorrow. It's the Ladies Event and I'll be here at 11am.