Some Blogger Pimpage
First of all, thanks to the guys over at
Odd Jack
for linking up my WSOP recaps from the Tao of Poker and
Lasvegasvegas.com
. You guys rule.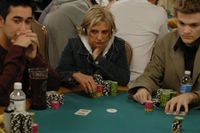 This next comment is directed at my fellow bloggers... if you can, please mention on your sites that I am the guy behind the
WSOP Live Blog
. I'm busting my butt over here. It's just me writing and Flipchip snapping kick ass pics for the
WSOP Photo Gallery
, like the one to the left. I haven't gotten up enough courage to ask Jen what she's listening to!
If you can, link up the Poker Prof's site (www.lasvegasvegas.com/pokerblog) under
2005 World Series of Poker News
. He'll certainly appreciate it!
Other rival poker organizations have as many as 20-30 people covering it for one single website. I'm covering the WSOP for several sites including
Poker Player Newspaper
, and it's just me and Flip Chip. You can imagine how much work this is, even for me. I love a good challenge though, but I could also use your help getting the word out that I'm going to be doing as much live blogging as I can about the WSOP from the Rio. The more pimpage I can get will only be more beneficial for all of us. Trickle down blogonomics. Thanks again.
Next, I'd like to point you to some amazing Vegas trip reports. If you are visiting my blog for the first time, about 70 or so bloggers hit Vegas last weekend for a mini-convention and blogger tournament. These are some of the best folks I've come across in my life. Feel free to stop by their blogs and read their tip reports. I stole this line-up from
Iggy's
blog. Thanks dude.

Poker in the Weeds (My brother's blog)
Otis, GRob and CJ - Up for Poker
Tanya - MissT74
Whiskey Town
Maudie - Poker Perspectives
Boy Genius - Gambling Blues
Chris Halverson
Human Head
Drizz - Nickle and Dimes
Chad - Pokeramarama
BadBlood on Poker
Tao of Poker
Gracie - SheVerb
AlCanHang - Dead Money
Bobby Bracelet - One Too Many
HDouble - Cards Speak
Poker Grub
Bill Rini
Fool and His Money
Marty - JMC Automatic
The Fat Guy
Poker Geek
Mr. Subliminal
Poker Nerd
Chilly
April - This is not a poker blog
April - Feeding the Addiction
Sideways Poker
Hel1xx - STFU
Playing Poker & Teaching Science
Sound of a Suckout
John-Paul
Geek and Proud
tp's poker talk
Royal Poker
The Obituarium
My Little Poker Blog
Beer City Poker
Hella Hold'em
Res Ipsa Poker
a moment with
Poker Princess
The Tsunami Hitchhiker
Mike's Poker Blog
Nickerblog
Obie's VIP
Felicia
The Big Pirate
Catching the Antichrist
The Poker Prof
I'm sory that I didn't have the time to do a full trip report. I want to write about so much stuff, but I had to start work right away. Maybe I'll get to it. For now go read everyone else's trip reports. I have to go to work!