Eight Days...
I just got more good news about the Holiday Classic in Las Vegas. Linda from
Poker Works
is going to be playing!
Otis
mentioned something to me the other day about inviting her. He sent Linda an email and she's in. We now have 27 confirmed players with a few maybes.
As you know,
Wil
sent me an email regretting that he will not be able to attend. His comedy show is opening the same night! We wish him the best of luck. Hopefully we can get him to play in the next event. In the meantime, I went scrambling to find a celebrity guest to fill in on short notice. I sent an email to the Hilton Sisters' PR person. I explained to them the history of the Hilton Sisters nickname for pocket queens and invited them to play in the tournament, specifically requesting Nicky, but I said "We'd be more than happy to have Paris and Tinkerbell."
I had this image of
Al Cant Hang
swigging back a double SoCo with Tinkerbell in his arms and then handing the little pooch over to Paris after I knock her out with The Hammer! Alas, I have not heard back from them. Not to fear, I already sent out emails to some of my favorite TV characters hoping that they might randomly show up at Sam's Town. That list includes Cousin Oliver from
The Brady Bunch
, Screech from
Saved by the Bell
, Rerun from
What's Happening
, Arnold from
Diff'rent Strokes
, and Greg Evigan from
BJ and the Bear
.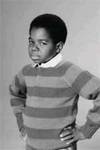 Blogger Tables
Played NL with
Bad Blood
and then with
Iggy
last night on
Party Poker
. The results were not so good. Never really got any cards. I think JJ was my best hand. Before I crashed, I came in 12th in a three table SNG. My AKs lost to KJo. Hate when that happens.