Happy Birthday, Al Cant Hang!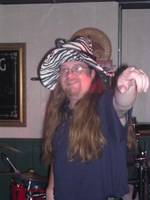 Another shot??
In honor of
America's Favorite Wingman
and North America's foremost SoCologist's birthday, I penned a poem for him.
Ode to Al Cant Hang

Always
Liquored
Content
Altruistic
Newfangled
Tipsy
Hangovers
Are
Never
Grand
Happy birthday, Senor Al No Puede Colgar! Hope it's a good one.