WPT Borgata Open - Final Table
This is a special day for me. I've covered the World Series of Poker, Ultimate Poker Challenge, and the European Poker Tour. But this is my first World Poker Tour final table. Despite the lack of sleep, I'm bursting with excitement. They are testing the lights as we speak at the Borgata and we are twenty minutes away from game time.
You can rea da recap of Day 3 over at
Las Vegas
and Poker Blog. It's called:
World Poker Tour - Borgata Down to the Final 6
.
Today's final table should be great for TV. Kathy Liebert has one WSOP bracelet and two WPT final tables (not including Ladies' Night). She's looking for her first WPT win. More importantly, no female has ever won a regular WPT event, so we could be seeing history tonight. Also at the final table are a few pros like John D'Agostino and David Singer. In 2003, David Singer made the final table in the main event at the WSOP and made one final table at tis year's WSOP. Plus any table is going to be fun if you have an Action Bob at it! Yeah, there are four Jersey natives at this final table.
Here's who made the final table including chip counts:
Seat 1: Robert "Action Bob" Hwang (Clark, NJ) $1,795,000
Seat 2: David Singer (Mamoreck, NY) $3,200,000
Seat 3: Al Ardebili (Jersey City, NJ) $1,425,000
Seat 4: Kathy Liebert (Las Vegas, NV) $1,045,000
Seat 5: John D'Agostino (Egg Harbor, NJ) $2,295,000
Seat 6: Richard Festejo (Margate, NJ) $540,000
I'll be back blogging live very soon. Stay tuned! Here are some early photos of the final table:

Linda Johnson WPT announcer



Behind the scenes on the WPT set
****** Live Blogging Updates ******5:11pm...
Linda Johnson is prepping the audience and she said that today is Mike Sexton's birthday. I spotted
Matt Matros
in the crowd and bumped into Chris from
21 Outs
. He's here rooting on his buddy Action Bob.
5:30pm...
The production crew is doing audience shots and bringing the players in one by one. They had to do a few extra takes. Action should be starting soon.
5:37pm...
Cards are in the air! Blinds are $25K-$50K with a $5K ante. The average chip stack is at $1,716,666. I have Kathy Liebert in the last longer bet with BJ who picked Al. (Thanks to BJ for the Courtney pic!)
5:44pm...
Here are the final table payouts:
1st: $1,498,650
2nd: $799,280
3rd: $427,115
4th: $349,685
5th: $299,730
6th: $249,775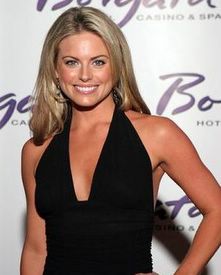 5:45pm...
We have our first flop!
5:48pm...
John D'Ag (so much easier to type D'Ag that D'Agostino) raised and Ricardo Festejo just moved all in over the top. John called. Ricardo Festejo had A-K and John D'Ag showed K-10. The flop was J-5-3 and Festejo was still ahead. The turn was a blank and an ace fell on the river to give Festejo the pot. He doubled up and has about $1 million in chips. Singer is the chipleader with over $3 million. Kathy is the short stack.
5:58pm...
Kathy Liebert just won a pot with A-A. No one called her though.
6:13pm...
We had a big hand. All the money went in on the turn. David Singer flopped a set with 10-10. However, Ricardo Festejo had a staright and a flush draw on a board of 10d-Jd-3h-9h with Qh-Jh. The river was an 8 and Ricardo Festejo doubled up again.
6:18pm...
Kathy Liebert is getting too many jucied hands early. She just had K-K and won a small pot!
6:22pm...
We've got a full house in media row. The usual suspects like BJ from
Card Player
and Jen & Heather from
Poker Wire
are here in addition to Danny from
Poker Pages
, Larry (from Bluff &
Gutshot
), and
Papergrrl
, who I met for the first time. There are some local media types here who are idiots and even a documentary film crew, who pretty much parked their asses here and are taking up space in the crmaped area they gave us to work in.
6:50pm...
Players are back from a quick five minute crew break that lasted twenty minutes. Here's the updated chip count:
1 John D'Agostino $ 2,245,000
2 David Singer $ 2,105,000
3 Richardo Festejo $ 1,800,000
4 Robert "Action Bob" Hwang $ 1,740,000
5 Al Ardebili $ 1,355,000
6 Kathy Liebert $ 1,055,000
Yeah, BJ and my picks are running last and next to last! By the way, my brother
Derek
is in the building. He's in the poker room playing $6/12.
6:55pm...
We're on a new level. The blinds are now $40K-$80K with a $10K ante.
7:20pm...
Nothing new to update. Action Bob just bluffed at a pot with A-2.
7:26pm...
Kathy Liebert moved all in with A-Q. John D'Ag called with J-J. Classic race. Al said he folded a Queen. Kathy flopped an ace and all her railbirds went wild. The turn and river didn't help John D'Ag and Kathy doubled up and now has $1.4 million.
7:32pm...
Action Bob moved all in and the pro-Action Bob crowd cheered. He picke dup the pot and his stack is now at $1.2 million.
7:33pm...
This is the "Action Bob Show." He moved all in again and the crowd let out an "Ooooooh!" He had 9-9 and John D'Ag called with 9-9!! And they chopped the pot.
7:45pm...
Updated chip count courtesy of Poker Wire:
1 Robert "Action Bob" Hwang $ 2,550,000
2 Richard Festejo $ 2,300,000
3 David Singer $ 2,100,000
4 Kathy Liebert $ 1,275,000
5 John D'Agostino $ 1,100,000
6 Al Ardebili $ 1,000,000
7:53pm...
According to super poker statistician BJ, we reached a milestone on the WPT. We went the most hands without an elimination. Currently we're on Hand 59, which broke the Legends of Poker at the Bicycle Casino record of 58 hands without a bust out.
7:55pm...
We're on a new level. $15K antes. Blinds are $60K-$120K. Action Bob has $2.2 million in chips.
8:02pm...
We had another big hand. Both Al Ardebili and Richard Festejo moved all in with A-Js. They chopped the pot.
8:07pm...
TV time out. They have to change the tapes in the camera. Be back in five minutes. I gotta piss! Here's a chip count:
1 Richard Festejo $ 2,580,000
2 Robert "Action Bob" Hwang $ 1,870,000
3 John D'Agostino $ 1,850,000
4 Kathy Liebert $ 1,620,000
5 David Singer $ 1,450,000
6 Al Ardebili $ 930,000
8:24pm...
We're back. Al Ardebili moved all in with 3c-3s. David Singer called with Js-9h. Al flopped a set when a 3 fell. On the turn David picked up a straight draw but the river didn't help him. The case 3 fell and Al Ardebili hit quad 3s. He doubled up and Singer is now the short stack.
8:39pm...
On Hand 73, David Singer was eliminated in 6th place by Action Bob. Singer had A-8 and Action Bob showed 6-6, which held up. David Singer won $249,775. A new WPT record was set for the most hands played before the first elimination.
8:51pm...
Al Ardebili moved all in and picked up the pot.
8:55pm...
Kathy Liebert moved all in with A-8. John D'Ag's called with K-Q. Kathy flopped an ace and turned two air when an 8 hit. She doubled up and had $1.5 million in chips. Al Ardebili and Action Bob both had $2.4 million in chips.
9:02pm...
Richard Festejo doubled up against Action Bob. Festejo had 5-5 and Action Bob showed Qs-Js. Both players moved all in on the flop of 4c-4s-8s. Action Bob didn't catch a flush or an over card and Festejo doubled up.
9:06pm...
Action Bob and John D'Ag were all in preflop. Action Bob was short stacked and had 10h-9s while John D'Ag showed 10-10. They both flopped straight draws on a board of J-9-8. The turn and river didn't help Robert "Action Bob" Hwang. He was knocked out in 5th place and won $299,730.
9:13pm...
New level. $100K-$200K blinds with $20K antes. Here's an updated chip count:
Ricardo Festejo $4M
Al Ardebili $2.15M
John D'Ag $1.9M
Kathy Liebert $1.5M
9:21pm...
John D'Agostino was knocked out in 4th place by Ricardo Festejo. Both players were all in on a flop of Q-3-4. Festejo had Q-8 and D'Agostino had Q-2. The turn and river didn't help D'Agostino and he won $349,685. Rocardo Festejo amassed a hige chip lead. He had over 85% of the chips in play.
9:31pm...
Al Ardebili doubled up against Ricardo Festejo. Ardebili had Q-Q and his Hilton Sisters held up against A-J. Kathy Liebert aid she folded A-J.
9:36pm...
With a short stack, Kathy moved all in with A-7. Al Ardebili called with Qs-10s. He flopped a ten and a flush draw. Kathy's hand did not improve and she was eliminated in 3rd place. She played excellent poker for four days and held on with a short stack at the final table. She won $427,115 for third place. Al Ardebili had a tiny chip lead with $5.2 million to Richardo Festejo's $5.1 million. We're on a break while they prep for the money presentation.
9:55pm...
The Borgata Babes who brought out the money are pretty hot! Still cleaning up the stage. Stay tuned.
10:03pm...
Cards are back in the air. On the first hand of heads up play, Al Ardebili raised to $600K. Richard Festejo did not hesitate and he pushed all in. Ardebili eventually folded and Festejo took the chip lead.
10:13pm...
I just saw one of the craziest hands since I started covering poker tournaments. On a borad of K-7-2, Ardebili checked, Festejo bet $1 million, and Ardebelli moved all in. Festejo thought for several minutes and called with A-2. It was an unbelievable call! Ardebelli showed 3d-2s and was domianted until a 3 spiked on the turn to give him two pair. Festejo still had outs but the river didn't help him. He doubled up Ardebelli. Festego's stack dropped to $1.1 million to Ardebelli's $9.2 million.
10:17pm...
We have a new WPT champion after four hands of heads up play! Al Ardebelli won $1,498,650 and a seat in the WPT Championships at the Bellagio. Richardo Festejo won $799,280 for second place. Richardo Festejo moved all in with 8h-7h. Al Ardebili showed Ah-9c. The flop was: K-5-2. The turn was a 5 and the river was 6. Al Ardebili won the WPT Borgata Open win Ace high. Congrats to Al and Ricardo! Both players won satellites to get into this event. And Kathy Liebert made history with the highest finish ever by a female on the WPT.

We have a winner! Al Ardebili the new WPT Champion