The Barcelona Open - Day 2
Well, I'm back at the Casino de Barcelona for the second and final day of action on the EPT. It seems like I only left here a few hours ago! I'm pretty excited. The bubble time is always fun. And today we have two bubbles... the money bubble and the TV bubble.
As the conclusion of my first EPT event is underway, I must say that I was impressed with how everything was set up. Sure, they weren't prepared that so many people would want to play, but overall everything was very professional. If it wasn't so damn expensive to travel through Europe, I'd love to be on the road follwoing the EPT on every destination. Alas, I have other obligations and tournaments to cover over the remainder of this year. But I'll be back in 2006 to cover at least one or two EPT events.
It's raining in Spain today. I didn't think it rained in Spain. Oh well. Last night it was pouring when I left around 5am. I caught a cab with Howard from Poker Stars and Brandon Schaefer. In order to catch a cab, we had to fight off a crowd of drunks who were kicked out of the casino. Yeah, casinos are not 24 hours here.
This afternoon, I ate lunch at the mall next to the Princess Hotel. Man, it was jam packed with hot women on a Saturday afternoon. Talk about leaps and bounds from the skinny toothless crack whores who roamed the hallways at the Redneck Riviera.
Moving on...
44 players are left. Here's an unofficial chip count courtesy of TK from
Blonde Poker
. The Great Dane appears to be the chip leader.
Gus Hansen 219.2k
Mika Puro 207k
Anders Gidgon 205.8k
Peter Gunnarson 192.8k
Nicholas Martin 173.9k
Feriould Romain 167.5k
Jan Slavik 103.9k
Luca Pagano 101.2k
Peter Ohlson 96.9k
Mike Luumi (?) 94.6k
Joachim Geigert 92.7k
AnbJorn Hagd (?) 87.5k
Kirill Gerasimov 85.1k
Richard Redmond 83k
Carlos Mortensen 73.4k
Jemil Butt 70.5k
Bueno Patrick 67.9k
Dario Alioto 64.5k
Patrick ?? 62.8k
Richard Ashby 62.6k
Fougeron Thomas 62k
Jan Boubli 61.6k
Greek Jack Dionysiou 60.1k
Christer Johannson 56.7k
Ben Callinan 50.5k
Alex Bowler 49.8k
Eskillon Hans 49.4k
Thomas Gunderson 49.1k
Ranigal Simms 45.2k
Iwan Jones 43.1k
Robert Binellii 42.7k
Richard Baldwin 42.7k
Patrick Martenson 39k
Luke Smith 37.7k
Anton Berstromm 37k
Hakon Warstead (?) 36.3k
Michael Zasdenberg 34.6k
Michael English 30.8k
Steve Day 28.7k
"Smokin" Steve Vladar 26.1k
Richard White 20.2k
Edik 19.8k
Liam Flood 18.3k
I will be posting the payouts as soon as they are relased. Stay tuned for some live blogging updates! And there's a small chance that I will be doing some annoucning/emcee'ing today. Action was supposed to resume at 3:30pm local time, but that's a few minutes away and it looks like that's not going to happen.
***** Live Blogging Updates *****
3:37pm...
Cards are in the air! Blinds are 3000/6000 antes are 600. 43 players are starting Day 2. They are not taping anything until the final table, so my short-lived European TV career has come to an end. David Hasselhoff can breathe a sigh of relief. Although, I hear I'm huge in Belgium. (I love that "line" from the 1990s flick
Singles
when Matt Dillon played the stoner lead singer of
Citizen Dick
, which also included actual members from Pearl Jam, and he told a music reporter that his band was big in Europe.)
3:44pm...
Here are the payouts. Top 27 pay. EPT final TV tables are 8 handed.
Final Table Payouts:
1. 416,000 Euros
2. 228,000 Euros
3. 117,000 Euros
4. 91,000 Euros
5. 78,000 Euros
6. 65,000 Euros
7. 52,000 Euros
8. 39,000 Euros

And the rest:
9. 26,000 Euros
10-12th 15,600 Euros
13-15th 13,000 Euros
16-18th 10,400 Euros
19-27th 7,800 Euros
3:55pm...
We have a writer's pool going on the time the final table will end. Here's who has who:
Matt from Gutshot 12:45am
TK from Blonde Poker 3:15am
Howard from Poker Stars 2:30am
Tom from Antes Up 2:31am
Pauly 4:00am
4:00pm...
Here are some random pics:

The final 5 tables



Media Row



Moving all in

4:20pm...
I was having coffee with a few folks from
Poker Stars
and Isabelle Mercier sat down. I asked her about what she thought of the tournament structure at the EPT. The levels are 45 minutes and she said they were too short.
4:35pm...
We're down to 29 players!
5:01pm...
We've reached the bubble. 28 players are left. Gus Hansen's stack is now almost 290K.
5:08pm...
Former WSOP champion Carlos Mortensen bubbled out in 28th place when his 10-8 ran into A-J. All remaining players made the money and will win at least $7800 Euros.
5:10pm...
The best name at this year's EPT has to be Jemil Butt from Norway.
5:13pm...
Players are on a ten minute break while the player's color up. I spoke to Christer Johansen for a few seconds. He started the day with 47K and now he has over 137K. He was involved in the huge hand yesterday when his A-A held up against Gus Hansen's A-7s (Gus flopped a nut flush draw and a gutshot straight draw) and the wild Finnish kid Ilari's Hilton Sisters.
5:25pm...
Blinds are 5K/10K with 1K antes. 27 players remaining.
5:35pm...
I can't keep up. Everyone is going all in right now. Richard Ashby from England was just elimnated in 25th place when his Hilton Sisters were cracked by J-J. 24 players are left. Mike Luumi took 27th and Peter Ohlson busted out in 26th place. They all won $7,800 Euros.
5:45pm...
Christer Johansen doubled up. He now has almost 300K.
6:00pm...
I spoke to John Duthie, creator of the EPT and he said some positive things about my annoucing stint yesterday. "It's good to hear an American voice do poker. It's proper." His feelings were echoed by one of the guys in the "truck." He explained, "When you hear a documentary, you expect to hear a British voice. With poker, it's natural to hear an American voice. It sounds right." Maybe I can parlay this into a gig! Ah, probably not. They were all being nice. I'm glad I didn't fuck up as a pinch hitter.
6:11pm...
Were down to 21 players. Thomas Gundersen finsihed in 23rd and Ben Calliman took 22nd. They both won $7,800 Euros.
6:20pm...
We're down to 20. Luca Pagano was eliminated when his K-J ran into K-Q. Who say's the
Kournikova
doesn't win? Gus Hansen is over 400K now. Gus with chips is a dangerous thing.
6:45pm...
I had a quick bite to eat at the bar with Tom Murphy. We had a great discussion on the different styles of play from the different Europeans as compared to how Americans play. It could become great material for a future article. In short, the Scandanvians/Nordic countries are hyper-aggressive. And most Europeans think Americans play too tight.
7:00pm...
We're down to 12 players. Gus Hansen has over 700K in chips right now. Andreas Hagen was 19th, Richard Redmond took 18th, Joakim Geigert busted out in 17th, Peter Gunnarsson was 16th, Nicolas Martin finished in 15th, Iwan Jones busted out in 14th, and Thomas Fougerou was out in 13th.
7:35pm...
We're down to 9 players. Michel Zajdenberg was out in 12th, Patrick Bueno took 11th and Jemil Butt busted out in 10th place. We've reached the TV table bubble!
8:00pm...
We're down to 8 players when Mika Puro was knocked out in 9th place. Everyone is on a dinner break while they set up the TV table. Action will resume at 9:15. Here's who's left: Gus Hansen, Patrick Martensson, Jan Boubli, Romain Feriolo, Christer Johansson, Patrick Antonius, Anotn Bergstrom, and Dario Alioto.
9:55pm...
After a huge delay, the final table is ready to begin. Cards are in the air! Here's who made it:
Seat 1: Gus Hansen (Coppenhagen, Denmark) $743K
Seat 2: Patrick Martensson (Stockholm, Sweden) $281K
Seat 3: Jan Boubli (France) $292K
Seat 4: Romain Feriolo (Marabella, Spain) $282K
Seat 5: Christer Johansson (Holliken, Sweden) $885K = Chipleader
Seat 6: Patrick Antonius (Helsinki, Finland) $331K
Seat 7: Anotn Bergstrom (Lund, Sweden) $338,500
Seat 8: Dario Alioto (Palermo, Italy) $87,500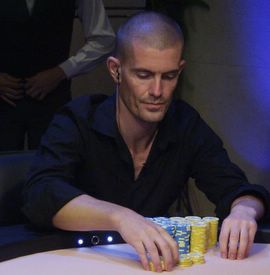 Seat 1: Gus Hansen (Denmark) 3 time WPT Champion



Seat 2: Patrick Mortensson (Sweden)



Seat 3: Jan Boulbi (France)



Seat 4: Romain Feriolo (Spain)



Seat 5: Christer Johansson (Sweden)



Seat 6: Patrik Antonius (Finland)



Seat 7: Anton "Doogie Howser" Bergstroem (Sweden)



Seat 8: Dario Alioto (Italy)

10:15pm...
We have our first elimination from the final table. Romain Feriolo was knocked out in 8th place by Christer Johansson. On a flop of K-10-9, Feriolo moved all in with 10-2. Johansson called with 10-9 and he turned a full house. Romain Feriolo won $39,000 Euros for 8th place.
10:33pm...
Holy shit!!! John Duthie asked me if I could announce the final table for a level or two later on tonight to give Thomas Kresmer a breather.
10:40pm...
Dario Alioto was shortstacked and moved all in with KQ. Patrik Anontious called with A-10 and it held up. Dario Alioto was eliminated in 7th place. He won 52,000 Euros.
11:11pm...
Gus Hansen had been getting beat up by the three Swedes at the table. he lost a lot of his stack to them. He moved all in with A-8 versus Patrik Antonius's pocket threes. He caught his ace and doubled up.
11:13pm...
Anton Bergstrom was knocked out in 6th place by Gus Hansen. Anton had Q-10 and Gus had A-4. Gus caught trip 4s and Anton was eliminated. He won $65,000 Eruos for 6th place.
1:30am...
I'm back after annoucning the final table for the last two plus hours. We're down too three players. Christer Johanssen is the cipleader. Jan Boulbli is second and Patrik Antonious is last in chips. I need a stiff drink after the two most stressful hours of my life and collect myself. Be back in a few minutes after I get my shit together.
1:48pm...
OK, here's the run down so far. Gus Hansen lost a big pot with Ks-7s to Patrick Mortensson's A-Q. Patrick Mortensson was the short stack and moved all in. Gus called. Both players caught a runner runner straight but Patrick's was higher. I incorrectly called the hand and announced that Gus won to the crowd. Gus corrected me and said that he lost. I thought he was pissed at me, but I just spoke to him and he was cool with that. Gus Hansen's stack took a big hit. He eventually was eliminated in 5th place when his Ks-Qs lost to Jan Boulbi's J-J. Gus Hansen won $78,000 for fifth place.
In the battle of the Patricks... Patrick Mortensson was eliminated in 4th place when his 8-8 ran into Patrik Antonious' Q-Q. The young Patrick Mortensson won $91,000.
Patrik Antonious was eliminated in 3rd place when he missed a flush draw with Ks-3s on a board with As-4s-Ah. Jan Boubli flopped two pair with 3h-4h and it held up when Patrik failed to catch his flush. Patrik Antonious won $117,000 for third place.
2:15am...
We have a new champion. Jan Boubli from France won the Barcelona Open! With K-Q he caught a Queen on the river to beat Christer Johansson's As-2s. Christer flopped two pair on a board of 8-2-8. Bother players got their money all in on the flop. The turn was a rag and the river gave Jan Boubli the win. Christer Johansson won $228,000 Euros for second place. Jan Boubli won $416,000 Euros for first place and a seat to the EPT Grand Finale in Monte Carlo in March of 2006.

Jan celebrates his victory



Jan Boubli the 2005 Barcelona Open Champion



Jan's check



I was filling in for Thomas Kresmer
That's it for now. See ya in Atlantic City in a few days where I'll be covering the World Poker Tour and the Borgata Open.