New Orleans Memories and Katrina Relief Tournaments
Sometimes you feel so fuckin' helpless and ashamed. To combat those dreadful feelings that have been lingering around inside my head the last few days as I soak in every desperate bit of footage from New Orleans, I decided to donate 10% of my September bankroll earnings to some organizations that will best help one of the worst disasters in U.S. history. Since I'm not that good of a poker player and I'm already down this month, I'm also donating 90% of my September affiliate revenues to Hurricane Katrina relief as well. In the past, I have donated all of May affiliate revenues towards the blogger get together in Las Vegas. I bought everyone drinks and party favors all weekend long. That was worth every penny I spent, however the money I donate this time will go towards a just cause that will help boost my soiled karma out of the gutter.
There are at least 5 ways you can help out and give aid to Hurricane Katrina victims.
Full Tilt
is having one special tournament
tonight
and
Poker Stars
is having four in the upcoming weeks thanks to
Wil
. Here are the details:
Where: Full Tilt Poker
When: Friday Sept. 2nd at 9:15pm ET
How Much: $20 + $10

Note: Full Tilt will match your $10 entry fee and that will be donated to the Red Cross' Hurricane Relief Fund. (Editor's Note: As of Noon on Friday, Howard Lederer will be playing in tonight's event. More pros are expected to appear.)

Where: Full Tilt Poker
When: Sunday Sept. 4th at 9:15pm ET
How Much: $20 + $10
Note: This event was recently added.

Where: Poker Stars
When: Monday Sept. 12 at 9:30 ET
How Much: $5

Where: Poker Stars
When: Wednesday Sept. 14 at 9:30 ET
How Much: $20

Where: Poker Stars
When: Thursday Sept. 15 at 9:30 ET
How Much: $50

Where: Poker Stars
When: Friday Sept. 16 at 9:30 ET
How Much: $100

Note: Poker Stars is only adding one cent per player to the prize pool and the remainder of the money collected will go to the American Red Cross. For more information visit Poker Stars blog.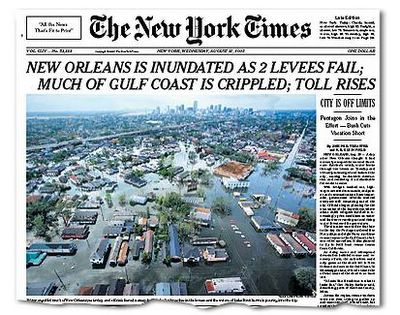 So you have five chances to doing something good. I signed up for the
Full Tilt
event tonight and I signed up for the first two
Poker Stars
ones. I will not be able to play in either of the Poker Stars events since I'll be on holiday in Amsterdam. I will be posting and folding, soo feel free to raise my blinds if you are at my table. I'm hoping that I'll be able to play in the one of Sept. 15th or on Sept. 16th. I'll be in Spain by then and if I can get internet access, I'll play.
Moving on...
A lot of my favorite bloggers have been posting New Orleans memories. Unfortunately, my three best New Orleans stories are too incriminating for me to blog. You'll have to sit down and by me a beer to hear one of my many psychedelic Big Easy tales. Seriously, it's better I don't talk about some of the things that went down there. My attorney advised me to issue only this comment which is the same thing I said to the police interrogator:
"She told me she was 19 years old."
However...
I spent a lot of time in New Orleans when I was in college. Too much time. Atlanta was Jan compared to New Orleans and Marcia. I attended Mardi Gras every year during college. I also went again in 2000 and it was as wild as ever. I've soaked up Jazz Fest four times too. Some of the best music and some of the biggest episodes of my own personal debauchery occurred on the streets of New Orleans. I'm devastated to think that there might never be another Mardi Gras or Jazzfest, at least not any time soon.
I saw one of my favorite bands,
Galactic
(a local New Orleans groove/funk band), play one of the best live shows I've ever seen in my life at
Tipitina's in December of 2000
. It definitely makes my top 10 list of greatest concerts that I've ever attended.
Daddy
can attest to how powerful a band like Galactic can be on any given night. I've seen them play all over the country and you know what? They bring New Orleans right to you, whether it was in New York City or Vail, Colorado, their shows are like a N'arlins party. Plus Tipitina's is a historical place for music. It's like Yankee Stadium or Lambeau Field.
I've seen almost every one of my favorite bands (with the exception of the Grateful Dead) in New Orleans. I've seen The Allman Brothers Band, Phish, Galactic, Widespread Panic, Garage-a-Trois, Oysterhead, Medeski Martin & Wood, String Cheese, Karl Denson, Charlie Hunter, Soulive, Rebirth, Ani DiFranco, Phil Lesh and Friends, the Funky Meters, the Radiators, and Santana. I even saw James Taylor put on a horrible show at Jazzfest one year.
Here's what
some New Orleans musicians had to say about the hurricane
, including a few words from the bass player from Galactic.
Flashback time.
The first time I was in New Orleans, I was an 18 year old frat boy. I showed up with $98, a Hawaiian shirt, and three condoms. I also wore my oldest pair of jeans that were ripped to shreds and an old pair of sneakers. Doolan, who was a Senior in my fraternity and veteran Mardi Gras attendee suggested that I bring clothes that I'm going to leave behind. He was right. I left three days later with just three dollars in loose change, no socks, with a ring of beads around my sore neck that a Haitian lady gave me for sucking on her left nipple while her boyfriend watched and took pictures, and most sadly, I only used up one of the condoms during an unimpressive two and a half minute romp in an alley off of Chartes Street with a really, really, really intoxicated sorority girl from my college.
Man that was fourteen years ago. Right now there's a soccer mom living in Georgia thinking,
"I can't believe that fucker Dr. Pauly blogged about that! And it was more like thirty seconds, y'all. That was the worst sympathy fuck of my life."
At least I got off.
I have so many stories about New Orleans that I don't know where to begin. I guess I'll save those for another time. But for now all joking aside, there are a lot of people suffering in New Orleans and in the surrounding areas. Here's an opportunity for you to do some decent with your bankroll.
I encourage everyone to do something to helpout.
****** ******
Here's a link to the
Wall Street Journal's live NOLA blog
.