WPT LA Poker Classic - Day 5
We're back at Commerce Casino for the shortest day of action in the history of the WPT. We have ten players remaining in the LA Poker Classic main event and we're going to play down to six. Four players must bust out. Should be an exciting day? If you were sitting in front of me in media row, you could see the sarcasm oozing out of my ears. This is totally ridiculous and my time could be better spent donking around chips at the NL tables instead of figthing through traffic (even on a holiday) and coming down to cover the last four eliminations.
Per Ummer from Sweden is the chipleader with over $2.5M, while WSOP bracelet winner David Chiu is the shortstack.
Some bustouts from Day Four included: Jon Luu, Juha Helppi, Jon Kelley, John Gale, James Woods, Rodeen Talebi, Chris Bigler, Bill Gazes.
Final 10 Chipcount (courtesy of Poker Wire):
1 Per Ummer $2.455M
2 Alan Goehring $2.315M
3 Kevan Casey $2.03M
4 Michael Woo $1.665M
5 Daniel Quach $1.425M
6 Steven Simmons $1.270M
7 JC Tran $1.245M
8 Michael McClain $665K
9 Anahit Galajian $480K
10 David Chiu $305K
Avg. Stack: $1.384M
The Final 10
Here's a payout list:
1st: $2,391,550
2nd: $1,162,560
3rd: $571,315
4th: $338,803
5th: $265,728
6th: $199,296
7th: $166,080
8th: $132,864
9th: $99,648
10th: $73,075
****** Live Blogging Updates *****

3:03pm... I'm sitting in between BJ and
Spaceman
in media row. I ate El Pollo Loco with
Joe Speaker
in downtown L.A., which happens to be BJ's favorite place to eat on the planet, next to In & Out Burger.
3:20pm...
Prop Bet Update:
I chopped with BJ last night. Today we have a good one. How many combined vowels are there going to be in the full name of the first player to bust out. He took 5 or more and I got the under... 4 or less. Should be interesting, especially since I'm getting slaughtered in Olympics betting. The US Women's curling team got spanked by the Brits.
3:36pm... Cards are in the air. Blinds are $15K/30K with a 5K ante. There's a little more than 40 minutes left at this level.
3:52pm... There's tension sticking to the walls in here. There's no talk at the tables and you can only hear the faint clatter of chips and media reps plugging away at their laptops. With $2.3M on the line for first palce, no one wants to make a bad move.
3:54pm...
Recent Elimination: 2005 WSOP bracelet winner David Chui has been eliminated by JC Tran in 10th place. Tran flopped top pair and Chiu missed an pen ended straigth draw. He won $73,075.
3:55pm...
Prop Bet Update:
Pauly 1, BJ 0. I won the first prop bet with BJ. 4 vowels, baby!
4:05pm...
Recent Elimination: Michael McClain is out in 9th place when he ran into Michael Woo's Q-Q with a steal. He won $99,648.
Updated Chipcount:
1 Per Ummer $2.7M
2 Michael Woo $2.3M
3 Alan Goehring $2.03M
4 JC Tran $2M
5 Kevan Casey $1.88M
6 Steven Simmons $1.111M
7 Daniel Quach $1M
8 Anahit Galajian $380K
Avg. Stack: $1.73M

4:20pm... Players are on a break and I'm on a smoke break.
4:40pm... We're on Level 24. Blinds are $20K/40K with $5K antes. 8 players remain. Per is reaching the $3M mark.
Updated Chipcount:
1 Per Ummer $2.9M
2 Alan Goehring $2.46M
3 Michael Woo $2.17M
4 JC Tran $1.915M
5 Kevan Casey $1.57M
6 Steven Simmons $1.1M
7 Daniel Quach $1.05M
8 Anahit Galajian $555K
5:10pm... JC Tran lost a big pot to Steven Simmons with 7-7 vs. J-J.
5:15pm... I'm running out of batteries! Be back soon.
5:30pm... Picture dump!
David Chiu & Michael "Agony of Defeat" McClain
Per Ummer's Bigstack
Glimpse from Media Row: Poker Wire Girls in action
More Media Row
6:05pm...
Recent Elimination: Kevan Casey was busted in 8th place by JC Tran. He turned two pair, but Tran turned a set on a board of 10-3-2-5-J. Both players were all in by the river. Kevan Casey, who held the chiplead on more than one instance over the course of yesterday finished up in 7th. He won $132,864. That pot put Tran nto the chiplead with over $3.7M
Updated Chipcount:
1 JC Tran $3.74M
2 Per Ummer $2.9M
3 Alan Goehring $2.48M
4 Michael Woo $1.65M
5 Steven Simmons $1.62M
6 Daniel Quach $1.3M
7 Anahit Galajian $260K
6:40pm...
Recent Elimination: Anahit Galajian, the last female in the field, finished in 7th place and became the TV Bubble Girl. Her A-6s lost to Daniel Quach's 9-9. Anahit Galajian won $166,080 for sixth place.
Final Table Chipcounts:
1 JC Tran $3.72M
2 Per Ummer $2.87M
3 Michael Woo $2.195M
4 Alan Goehring $1.9M
5 Daniel Quach $1.655M
6 Steven Simmons $1.505M
Anahit Galajian - 7th Place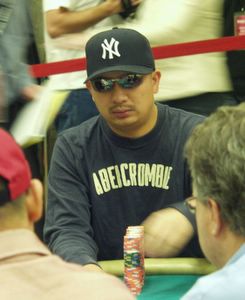 JC Tran - End of Day 5 Chipleader
Action is over for Day 5 and will resume at 5pm on Tuesday for the final table of the WPT LA Poker Classic. JC Tran will be the chipleader when the final table begins. See you there for more live blogging updates.